What is Air Permeability ?
Is the uncontrolled flow of air both into and out of  a building through cracks and gaps. Uncontrolled air flow accounts for a large proportion of energy wasted in dwellings.
Achieving improved air tightness is a key factor for a builder or contractor meeting the present buildings  regulations and improve the cost of running the building. Is expressed in terms of air leakage in  cubic meters per hour per square meter of the dwelling envelope area when the building subject to a differential pressure of 50 Pascal's
(m3/(h.m2)@50pa)
 HOw to achieve Air Tightness and Why?
Air tightness simply means eradicating all draughts. Draughts can be so small e.g. under window boards, around windows and doors but an accumulation  can have a drastic impact on the energy loss in the dwelling and lead to significant discomfort and high running costs.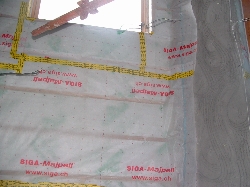 The only way to achieve Air tightness is a consistent air-resistant layer all around the inside of the building. This includes the area where the wall/floor meet, around the door and window openings.
A layer of breathable membrane behind the plaster slab on the upper ceiling. Regardless  of the structure type, timber frame or masonry  construction the air tightness layer must be continuous from floor to ceiling.
 Why Choose DK Energy Consultants To Apply The Tapes & Membranes in Cork and Waterford
DK Energy Consultants are certified contractors of the SIGA Air & Wind tightness System. this is comprised of a range of tapes and adhesives, and SIGA Majpell, a vapor control layer. This system has been certified by the The Irish Agrément Board.
The wind tightness tapes can be used with all suitable breathable roofing and facade membranes. The tapes and adhesives are free from residential toxins such as solvents (VOC), high boilers, formaldehyde, chlorine, plasticizers 
Air Tightness Terminology
Building envelope - external elements of the building, walls, windows, front and rear doors,  floors and ceilings
Air tightness -  defined as the resistance of the building  envelope to  inward  or  outward air leakage. Excessive air leakage results in increased energy consumption and a draught cold building.
Air leakage - defined as the amount of air gaps or cracks in the building envelope, driven by pressure differences between inside and outside. Areas of air leakage, cold bridges, i.e. around doors, windows and between floor levels
Air permeability - expressed as the amount of air leakage in cubic meters per hour per square  meter of the building envelope at a pressure differential of 50Pascals between inside and outside the building envelope, maximum permitted level  is 10 m2/[email protected], This is measured by the instillation of the blower-door fan into the main entrance of the dwelling.
Air changes  per hour- measures the ventilation in the building. This can be controlled by mechanical ventilation heat recovery or opening windows and doors